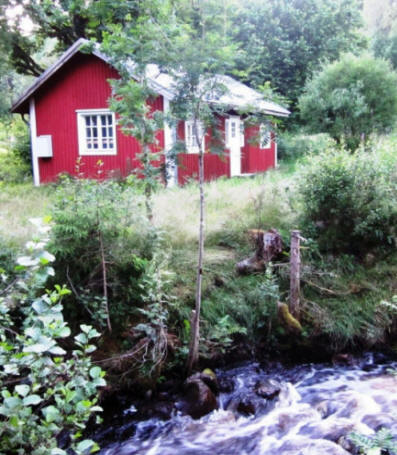 Sjöbo
KONTAKT
Ole Nielsen, Tim Kirkevej 30, 6980 Tim, Danmark, Telefon 0045 97333732, Mobil 0045 40545505,
E-mail oleflemming@yahoo.dk
Interesseret i at leje huset? Se yderligere information på Stugbasen.se
Lidt om området:.
Søen Lillgräsken er 800 meter lang og har tidligere været benyttet til at levere vandkraft til de omliggende gårde. Det gamle kraftværk ligger der stadig, men har ikke været i gang længe. Ved siden af ligger et forhenværende savværk. Dette er nu værksted til f.eks. produktion af jydepotter (se mere om dem på vor hjemmeside her) Foran er en veranda, hvor man kan sidde med udsigt til søen. Her er rygning tilladt. Via en bro går man over til Sjöbo.
Sommerhuset er på 50 m2 Det er et ikke ryger-hus, som består af køkken/alrum med sovesofa, soveværelse med 2 senge og et toilet. Varmen i huset er baseret el-radiatorer og en brændeovn.Vandet pumpes ind fra søen og sendes gennem 3 filtre (Partikel filter, Kulfilter og UV filter), men det er svagt farvet på trods af denne filtrering.
Hele området har en skøn afvekslende natur med skove, klipper og utallige søer. Ved dæmningen ligger en lille båd så man kan komme ud og se søen. Netfiskeri er ikke tilladt.
Dårlig mobil dækning, man kan normalt modtage SMS'er men samtale kræver, at man skal ud og finde et sted med bedre dækning
Rolig hund må medbringes.
.........................................
A little about the area:
The lake Lillgräsken is 800 meters long and has previously been used to supply hydroelectric power to the surrounding farms. The old power plant is still there, but has not been in use for a long time. Next to this is a former sawmill. This is now a workshop for example for production of black pots (see more about them on our website here) In front is a veranda where you can sit overlooking the lake. Here is smoking allowed. using the bridge you go over to Sjöbo.
The cottage is 50 m2 It is a non-smoking house. It consists of kitchen / dining area with sofa bed, bedroom with two beds and a toilet. The heat in the house is based on electric radiators and a stove.The water pumped from the lake and sent through three filters (particle filter, carbon filter and UV filter), but it is slightly colored in spite of this filtering.
The whole area has a lovely varied nature with forests, cliffs and numerous lakes. At the dam is a small boat, so you can get out and see the lake. Note: Fishing with fishing-nets is not allowed.
Poor mobile coverage, you can usually receive text messages but conversation requires, that you go out and find a location with better coverage
Quiet dog allowed.
........................................
Ein wenig über die Region:
Lillgräsken ist 800 Meter lang und wurde bereits verwendet werden, um Wasserkraft zu den Bauernhöfen der Umgebung versorgen. Das alte Kraftwerk ist immer noch da, aber noch nicht in eine lange Zeit gewesen. Nebenan befindet sich ein ehemaliges Sägewerk. Dies ist nun die Werkstatt mit Produktion von schwarzen Töpfe (mehr über sie auf unserer Website hier) Vorderseite ist eine Veranda, wo Sie sitzen kann, Blick auf den See. Hier ist das Rauchen erlaubt.
Das Ferienhaus ist 50 m2 Es ist ein Nichtraucherhaus, das aus Küche / Esszimmer mit Schlafcouch, Schlafzimmer mit zwei Betten und eine Toilette besteht. Die Wärme im Haus kommt elektrische Heizkörper auf und ein Herd. Das Wasser wird aus dem See gepumpt und durch drei Filter (Partikelfilter, Kohlefilter und UV-Filter) gesendet, aber es ist trotz dieser Filterung leicht gefärbt.
Das ganze Gebiet hat eine schöne abwechslungsreiche Landschaft mit Wäldern, Felsen und zahlreichen Seen. An der Damm ist ein kleines Boot, so können Sie aus und sehen den See. Fischerei mit Fischernetze ist nicht erlaubt.
Schlechte Mobilfunkabdeckung, Sie können in der Regel Textnachrichten erhalten , aber für Gespräch müssen Sie gehen um eine Stelle mit besserem Empfang finden
Ruhiger Hund erlaubt.
........................................
LINK TIL UDFLUGTSMÅL:
Gammalsjö Tullkvarn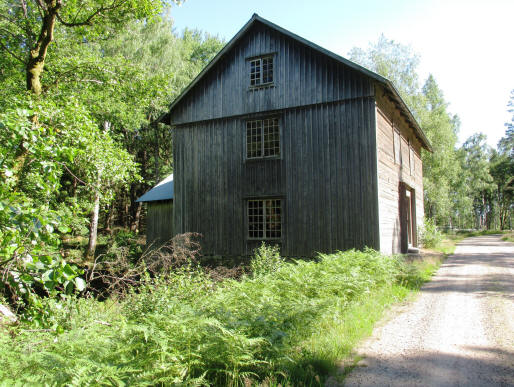 Indkøbene klares nemmest ved at tage en tur til Gislaved (16 km) http://www.visit-gislaved.se/sv
https://www.facebook.com/pages/Gislaveds-Turistbyr%C3%A5/224686330889788
Gislaveds Turistbyrå 57.302639,13.537950
eller Tranemo (25 km) http://www.tranemo.se/Kultur-fritid--turism/ og https://www.facebook.com/pages/Tranemo-Turistbyr%C3%A5/132797870081891
Astrid Lindgrens värld 290 km http://www.alv.se/en GPS coordinates: N 57 deg 40.587' E 015 deg 50.711'
Isaberg Golfklubb http://www.isaberggolf.com/
Kinds Golfklubb 23 km http://www.kindsgk.se/extra/pod/ GPS 57.462496, 13.177071
High Chaparral Adventure park http://www.highchaparral.se/en/start/
Fiskekort http://www.svenskafiskevatten.se/gislaved/modules.php?name=Content&op=showcontent&id=5333